In her own words
Alondra Martinez Osorno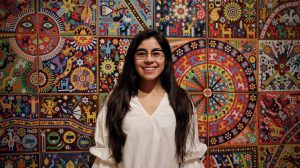 Higher education is not a temporary reward, but a recompense that will continue giving to my future generations. However, for now, I am pursuing a higher education for myself first and for my nine siblings that follow me.
Education is empowerment. It is that simple. It strengthens the mind and nurtures curiosity. I want surpass memorization and persevere to the next level, the ability to understand and make inter-disciplinary connections. I long for self-discipline and independence so that I can design, develop, and execute my own ideas. I do not want to rely on the world to carry me through, but rather take the initiative to construct my own platform.
My future career plans involve aiming higher, as countless advisers have encouraged me. Currently, I study Biophysics and French because I love to investigate. Furthermore, I have the heart and will to immerse myself in the discipline of science and medicine. After spending my summer in a science lab and having family members experience medical malpractices (due to a language barrier), I plan to pursue an MD-PhD degree.
As a physician-scientist, I will dedicate my full attention and time to the patients who are in their weakest state. Because I am the oldest, I have always been surrounded by younger kids. As a result, my siblings have inspired me to feel the need to take care of other children's health in the manner I would want my siblings to be taken care of. Therefore, I would like to go into pediatrics with the belief that my passion will never grow old if I surround myself with children.
Lastly, my family is my strength and weakness. They are the sole people responsible for supplying me with endless motivation, love, and laughter. Hence, I want to be my siblings' living proof that even an ordinary girl can attain higher education with hard work and dedication.