In her own words
Ashli Hunter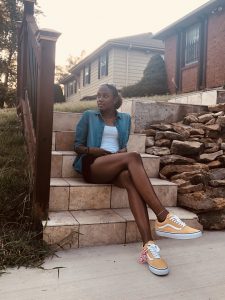 At the start of high school, I began to understand the value of a college degree. University Academy provided opportunities that led me to college. Opportunities such as college visits, visits from college admissions, resume writing, and college application help. Not many people had access to these opportunities, and I knew I should take advantage of it. I value my education because not many people in my family went to college. My parents didn't go, and they prefer I not follow in their footsteps.
I plan to pursue a career in physical therapy. It's not an easy field to pursue. It's very competitive and requires you to be in school longer than most fields. But because I like to help other people, this field of study will allow me to do so.
Eventually, I want to open my own practice or become a physical therapist for a professional sports team. My parents have jobs that they particularly don't like. A career in doing something I enjoy would mean a lot for my family and me.
My parents are sending off two people to college at once, and I know they can't afford to do so. They are my biggest support system and, therefore, my motivation and reason why I want to continue my education. With this scholarship, I'll make the best out of my education and hopefully make a difference in the community.