In her own words
Astrid Diaz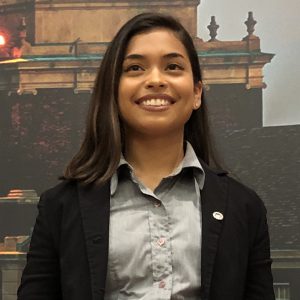 Growing up as the child of Central American immigrants, I always heard stories about the difficulties of the immigrant experience. Family separation, isolation, culture shock, and lost opportunities were some of the unfortunate threads that bound together my loved ones and my community. I understood that immigration was more than an abstract political topic to me, because it shaped the lives of many around me and was an inextricable part of my own identity. It was not until my undergraduate career, however, that I had access to education that enabled me to comprehend and articulate the historical and social conditions that molded our immigration system.
I was the first person in my family to be able to attend college. My bachelor's degree, however, was not an end: it served as the means to aim higher and pursue a law degree to convert my knowledge into action.
With my Juris Doctor, I want to advocate for and empower immigrant communities as an immigration attorney. I hope to assist individuals in their immigration matters by providing legal representation and obtaining tangible, direct relief for them. I also hope to push for systemic changes on a larger scale as a movement lawyer providing legal support to the broader immigrant rights movement. I want immigrants of color to see people like me, who look like them and can relate to their lived experiences, in positions of power and in advocate roles. I firmly believe that is my role to fulfill in my community.