In her own words
Brenasia Ward-Caldwell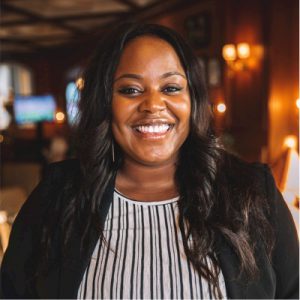 If you had asked me in 2014, I would have said that pursuing my Master's degree would not happen anytime soon. And that was after I spent the summer at the University of Pittsburgh participating in the summer research program, i3, that is geared towards getting minority students into graduate and doctoral programs. Now, six years later, I am in the first semester of my graduate program at my dream school.
To provide you some context on me, I am a first-generation student from Baltimore City. I grew up fortunate to have a mother who instilled the value of education in me and my younger sister. While my mother never graduated with her bachelor's degree, she insisted that it is something that I strive to achieve. As a young woman, I was introduced to technology early as I grew up with a PC in my home and basic computer classes at my school.
Over the years, that translated into me growing my interest in technology as much as possible. Starting my academic career, I began at the Community College of Baltimore County, where I received my Associate of Applied Science in Information Technology. From there, I went on to the University of Baltimore County, where I received my Bachelor of Science in Information Systems.
After graduation, I left Baltimore and moved to Pittsburgh, where I began work at PNC bank. After getting a few years of work under my belt, I felt that it was time to return to the learning environment and prepare for the next stage of my career. I have aspirations of working in cybersecurity strategy and risk, where I hope to use the skills that I learn in my graduate program to enhance my current or future enterprise's security standards.
I look forward to the things that I am learning and will learn that will help me maximize my contributions to the technological world of the future.