In her own words
Brenda Robinson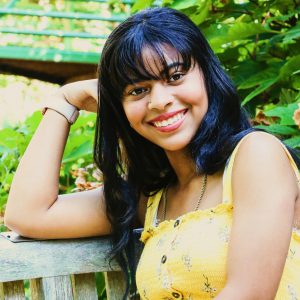 When I was young, I dreamed of so many different careers that I could pursue. I could become a veterinarian, a teacher, or an astronaut if I tried hard enough. It was when my grandma, the woman who helped raise me to support my mom, passed away when I was a child that I realized my passion may lie in medicine. Since her unfortunate passing, I have never let an opportunity to grow and learn new things pass me by. Though my community lacked opportunities for students like me, I never stopped working towards higher education.
As I grew up, my father and my step-mom struggled with alcohol abuse. I witnessed countless violent arguments that even now still haunt me. My mom continued to work early mornings to keep a roof over my sister and my heads and to continue funding our educations. I even came out to the world as bisexual, which brought judgment from my family and many of my friends. Now, I struggle with anxiety and OCD, but I never let those struggles stop me.
As a first-generation student, I am pursuing an education to become a role model for people like me. I am an African-American and Puerto Rican bisexual woman with dreams of becoming a dermatologist. There is not a lot of minority representation in the medical field, so I want others to know that they can achieve their dreams if they work hard. I have found my purpose, and so can they.
return to 2020 scholarship homepage