In her own words
Diana Dimas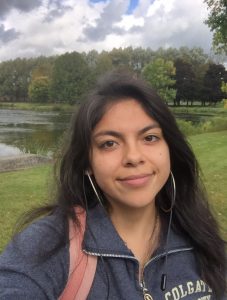 Sometimes, I stop to look at my school from the bottom of the hill to observe its grandeur. Beautiful autumn leaves line the path making a walkway to majestically illuminated buildings. How did I get to be here? A girl who witnessed verbal abuse and alcoholism daily, who was forced to live paycheck-to-paycheck in a poor neighborhood. But since I was 11, I had dreamed of going to college – any college. And here I am.
I know how I got here. I got here because my strong community of women taught me how to be strong in the most unfortunate times. Through the undying resilience of my mom, the steady motivation of my sister, and the continuous strength of my academic advisor who looks and sounds like me, I am an empowered woman eager to help other women and girls to expand their imagination of what their goals can look like. My goal has always been to attain higher education to get my family out of poverty, but after studying at Colgate for four years, I know my responsibility extends to an even greater community of women and girls who also aspire to attain a higher education.
As a future high school teacher, I aim to encourage young women to believe in the opportunities they set for themselves if they continue to dream higher. For me, this means reaching for the position of President of the Board of Education for LAUSD, so I can dedicate money to fund clubs, programs, and courses that empower women to dream bigger.
I want young women to know their own grandeur, to know that, through hard work aided by an empowering community, they can break any glass ceiling.