In her own words
Ilsi Saca-Chinchilla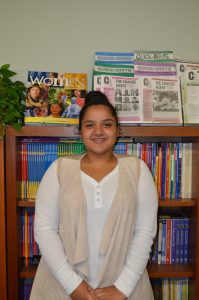 I was born and raised in a beautiful country, Honduras. I was raised by my father's parents. My father left to go to the United States. I loved my grandparents, and they raised me with care and love. My grandparents worked hard to make a living and made sure that I went to school. I loved school and was an honor student – I still have the honor roll certificate from high school, where I graduated in the top 5 of my class. I would have received a scholarship to go to university in Honduras, but I decided to move to the US to live with my father and study here.
I have been in the US for 3 years, and I live with my father and his family. It has been difficult to adjust to a new country. I miss my grandmother and family in Honduras, but I know I will receive a good education here in the US.
This semester I am studying Sociology, American Government, English 101 and Human Services. My favorite class is English, I love my professor and the way she explains English and essay writing. I want my family to be proud of me, so I work hard at all my classes. In the future I would like to work in criminal justice- forensic science is so interesting. There is injustice in my country, and I want to help people who are wronged have scientific ways to prove their innocence. All people deserve fair trials and justice. I look forward to getting a Bachelor of Science Degree.
Thank you for taking the time to read about my life and for thinking of me for a scholarship to continue my education at HCC.
return to 2018 scholarship homepage