In her own words
Iveshia Ford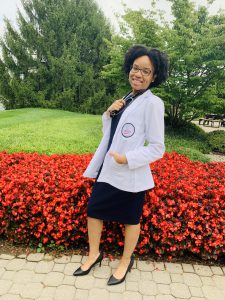 My interest in medicine began at a young age, but my passion for the field ignited while serving as a counselor at Victory Junction, a camp for kids with chronic illnesses. Knowing that the campers and their parents entrusted me with the responsibility to properly care for the children fueled me to want to learn more and go further in the medical field.
My goal as a physician assistant (PA) is to simultaneously be a healthcare provider, educator, and advocate. I am particularly interested in impacting the lives of children and underserved communities, especially those who live in rural areas like my home town in Virginia.
Beyond my time at Victory Junction, this passion was further cultivated as a Truth Initiative Youth Activism Fellow. As a Fellow, I worked with my team to educate high school students about the dangers of tobacco and the tobacco industry – an industry that utilizes strategies to actively target youth, veterans, and the African-American community. I hope to make a positive impact on these same populations as a PA.
I am proud to be a first-generation college (and now graduate) student. My family has always stood behind me, but with the passing of my grandfather last year from pancreatic cancer, I am motivated more than ever to push on. Starting graduate school in the middle of a pandemic has certainly challenged me, but I know that with great discipline, passion, and faith, I can reach my goal of becoming Iveshia Ford, PA-C.