In her own words
Madilyn Castillo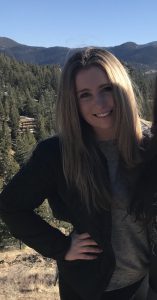 Growing up, my dad worked 3 jobs to provide for his family. He was born in Guam and came to America to start a new life and work hard. We struggled to make ends meet, but my parents were determined to give me and my sisters the best life possible. When I was 15 years old, my father was diagnosed with stage 4 colorectal cancer. In the middle of my sophomore year of high school, I lost my father to this horrible disease.  He was in the hospital for months and had multiple surgeries. Throughout this experience, I found my passion for serving others and helping those who are sick and injured. I began volunteering at an Emergency Department and a nursing home near my house.
When I graduated high school I worked hard to get into nursing school. I began nursing school when I was 18 years old because I was determined to become a nurse so I could help others and be a light in the darkest part of many people's lives. I am currently 20 years old and going into my last semester of nursing school.
My family is very tight on money because my father passed away. I work full time as a CNA, but this income is not enough to pay for rent, car, food, and tuition. This scholarship would mean the world to me because it would help me get through my last part of nursing school. I want this higher education so I can help others and also be able to support my family. Thank you!