In her own words
Sofia Bermeo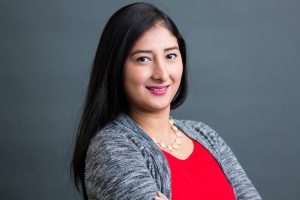 Ever since I was a young girl living in the impoverished outskirts of Guayaquil, my parents made one priority very clear to me and my three sisters: Education. Although there were many times when we as a family had to tighten the purse strings to make it through the month, it was always clear that our sacrifice had a higher purpose – to make sure that we had the resources to get a good education.
My professional journey started when I was admitted to Ecuador's top business university, where I was able to earn my Bachelor's degree in Economics and Business Management. I put these management skills to work right away as the administrator at a local Diocesan medical clinic in my hometown of Duran. After working there for two years and helping the clinic grow, I had the opportunity to come to the United States, where my professional journey has unfolded in ways that I hadn't imagined. Shortly after arriving in the U.S., I began volunteering with the newly formed non-profit Latino Community Center. My volunteering became an internship, which became a part time job as administrative assistant, and ultimately my current full-time position of Office Manager.
Thanks to the support and encouragement of my family and colleagues, I have also begun my most recent challenge: getting my MBA at the Katz Graduate School of Business at the University of Pittsburgh. Hopefully, this will equip me with the skills necessary to pursue my dream of working on a leadership team in corporate finance.