In her own words
Tyra Jamison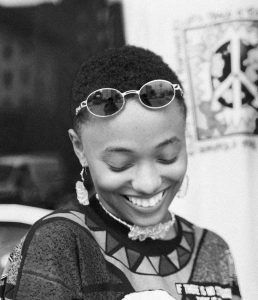 I've had to be a light for myself when all other lights go out.
Neither of my parents finished college because they wanted to focus on raising my brothers and me. They've shown me that working double time creates more mobility and levels the field for those that follow. Finishing my Creative Writing BFA would be more than obtaining a degree—it would be wrapping up a decade of formal writing education. Attending an arts magnet (Pittsburgh CAPA 6-12) as a writing major since the sixth grade let me come to UArts with a vision to make the arts accessible, rather than a luxury.
Throughout my college career, I've been able to foster creative, supportive environments out of the fires of circumstance. Within UArts, I supported existing spaces and structures benefitting students of color, who are super vulnerable. I've also supported arts initiatives with social impact in Philadelphia. My creativity goes beyond what I've written; it's about whose lives I can change for the better. A consequence of my parents' ambition are physical illnesses developed from lacking self care. I want to continue the work of one of my mentors, Vanessa German, who uses art to wrap the most marginalized people in love.